Testimonials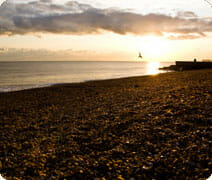 The following testimonials are taken from emails and letters of thanks, sent to Philip Evans Jnr, our Brighton funeral director at Sussex Funeral Services, following the funeral services conducted for loved ones.
The emails and letters for each of the responses, are available for perusal, as are the contact details of those providing the feedback for references if required.
Obviously where individuals are to be contacted for references, unless stated otherwise, permission will be sought to provide personal details for the purposes of references. We always protect the personal contact details of our clients.
"Now that the dust has settled from the funeral last Thursday, I would like to say "Thank You" for all you did to make the arrangements go so smoothly."
"Dear Phil. I just wanted to take the opportunity to thank you properly for all you and Sally did for us last week. As a funeral director you led us through the whole sad process with compassion, care and efficiency and, as a celebrant, helped us create such a beautiful, tranquil and moving finale in celebration of Mummy's long life. We will always remember just how much you helped us. Thank you again"
Jane Klevenhagen, Clients
"Dear Philip & Sallie
Our family would like to say a very big thank you for the caring,compassionate and professional way you conducted our mum funeral on 15th Sept 2014.
You helped us in a very sad day,giving us the time to remember and honour a loved one. You treated our mum with such respect and dignity."
I would like to take the opportunity again to thank you, from myself and my family, for a beautiful and well presented service for my father. You have great passion for what you do, and this shows in your work. I and my family would definitely recommend you for your services."
"We'd like to stress that we enjoyed meeting you very much and were impressed by your responsiveness and professionalism. We wouldn't hesitate to pass on your details to anyone who is faced with making similar arrangements in the future."
"A very dear family friend of ours passed away on the 21 of February in Hove. As we live in the north of England we went on the website to search for a reputable funeral director in Hove. We chose Phillip Evans of Sussex Funeral Services. By the time we arrived in Hove all the arrangements for the funeral had been made to our satisfaction and any other help we needed was catered for to a very high standard. MR EVANS and his staff offered high quality professional care and assistance to our friend Sheila and ourselves throughout all the funeral arrangements. We would like to thank Philip and his caring staff for all their help and professional care and assistance. We would highly recommend Sussex Funeral Services in the event of losing a loved one. ."
"Thank you so much for conducting the funeral service on Monday, 20th July, for my mother, Grace. I was a little disappointed that there were so few of us at the service but we did manage to sing 'Jerusalem' quite strongly with the help of the organist! My sister, Mary, has driven back to Switzerland today to join the rest of her family, my daughter Sarah and children are now back in France and so there is only Alison and myself left in England! But I am back at work so hopefully normal service will resume in time! Once again, thank you for all your efforts and good luck for the future."
Catherine Biggar and Mary Wilson, Clients
"Thank you very much for conducting the service for Mum. I'm back in Switzerland now, drove back on Friday and feeling a bit 'stunned'! I believe you spoke to David (my husband) last week re: a pdf file of your eulogy. We haven't received anything and wondered if you had sent it, Catherine has also sent you an e-mail of thanks which she wonders if you received. Once again, many thanks."
"Apologies for taking so long to be in touch. Things have ben rough as you can imagine. But you have been in our thoughts. Words cannot describe how appreciative we are of everything you did for us and our little girl. We have so much respect for the way for the way you handled our delicate situation. The service in particular was went so well in fact that many of our friends asked if you were a close family friend of ours, which just shows how much effort and compassion you put into everything from the start to finish. It must have been hard for you to decide to be the celebrant for the funeral, it being your first time.. Please know that we couldn't have asked for a better person to help us say goodbye to our Angel Isabella. Thank you again and we hope to see you soon.."
"I want to thank you so much for all you did Philip and for us the service was just as she wanted, and there wasn't one thing that we could have done better, and the majority of that was down to you. I don't think I managed to speak to you after, perhaps I did but it was a bit of a blur. So thank you again for all the time and thought you put into the service and to help us through a very sad time."