'Attended' Cremation Funeral Costs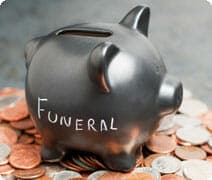 Cremation Funeral Costs
In the interests of transparency, we believe that you should not have to make a phone call or make personal visits to determine what a funeral might cost.
The costs below provide you with a list of the main costs associated with an attended cremation funeral service. you simply choose what services you need or want and pay for only those services.
Funeral Director Fees – £1500
Please note: Our Professional Fee includes Advice, taking care of the legal Arrangements and Administration; Collection of the deceased (within 20 mile radius of our office); Washing & dressing; Viewings on a single day; Funeral Director on the day of funeral; 4 x bearers; a hearse and conveyance to the agreed cemetery or crematorium (within 20 miles of our office).
Transport of The Coffin – £0 (Included)
Formal hearse – Is Included
(silver cars are extra)
Funeral Celebrants or Minister – From £200
Independent funeral celebrant – From £200
Or religious minister – approx £200
The Coffin 
Cardboard – £350
Oak Effect Coffin – £350
Bamboo Coffin –  £500
Willow Coffin – £550
Crematoria Fee – From £499
After 10am – £715
Earlier Slots – £499
The Downs
After 10am – £658
Early Slot at 9am – £499
Doctor Fee – £82 (if applicable)
Doctors fees – £82.00
(unless subject to post mortem)
A typical example of a bespoke cremation funeral service
Other Expenses To Consider
Printed order of services – TBA
Extra chapel time (useful for those wishing to consider less time restrictions) – TBA
Limousine – £inc
**Larger Clients: In the case of bariatric (obese) clients, that cause additional or unusual requirements, or clients who exceed 6'2″ x 22″ in size, we reserve the right to either decline or withdraw our services at any time, and/or make additional charges where these become necessary, but you will be informed of any such charges before we apply them.
* Full payment (cleared funds) must be received before the funeral takes place.