Bespoke 'Cremation' Funeral Costs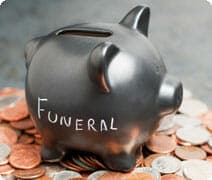 Typical Cremation Funeral £3,103 (fully inclusive)
In The Interests Of Transparency, We Believe That You Should Not Have To Make A Phone Call Or Make Personal Visits To Determine What A Funeral Might Cost.
The Costs Below Provide You With A List Of The Main Costs Associated With A Cremation. You Simply Choose What Services You Need Or Want And Pay For Only Those Services.
Transport Of The Coffin
Formal hearse (silver cars are extra)
£230 (includes 1 x bearer)
Extra Bearers (our prof fee includes 4 x bearers)
£35 each (unless family bearers are available)
Funeral Celebrants And Ministers
Independent funeral celebrant
From £200
Or religious minister
£196
Crematoria
Woodvale
£691 (or £480 for the early 9.30am or 10am slot)
Doctors
Doctors fee (unless subject to post mortem)
£82 (per doctor) During this current Covid-19 crisis, only one doctor is required
A Typical Example Of A Cremation Funeral Service
Our professional fee
£1450
Coffin: Our standard oak veneered 'Ardingly'
£450
Please note: Our Professional Fee includes Advice, Arrangements and Administration; Collection of the deceased from hospital or mortuary; Care of the deceased; Preparations & Viewings; Supporting family members who wish to view; Checking all papers are correct and submitted; Funeral Director on the day of funeral.
Other Expenses To Consider
Home or Nursing Home Collection fee during office hours
£120
Out of hours callout** – see below for explanation
£200
**Where an out of hours callout applies there will be a charge of £200
(This is not in addition to the collection fee above but in place of – it's either or!)
Larger Clients: In the case of bariatric (obese) clients, that cause additional or unusual requirements, or clients who exceed 6'2″ x 22″ in size, we reserve the right to either decline or withdraw our services at any time, and/or make additional charges where these become necessary, but you will be informed of any such charges before we apply them.