Motorcycle Funerals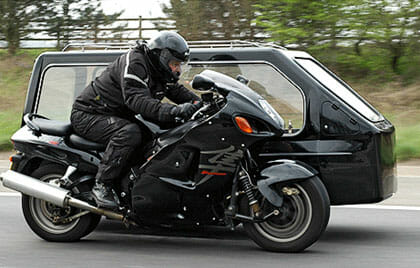 We at Sussex Funerals are very keen to ensure that the funeral of your loved one is as personalised as it can be.
As keen motorcyclist ourselves, both Philip and Sallie are fully licensed motorcyclists (Triumph Tiger Sport 1050 ridden by Philip, Triumph Street Twin by Sallie); we are proud to offer our clients a tailored 'motorcycle' funeral.
We can organise 5 different styles of motorcycle and even a choice of trikes, if appropriate. We have access to the following Motorcycles with a coffin carrying sidecar.
We can organise a motorcycle cortège with an escort of riders, including Philip & Sallie if appropriate.
And no matter the weather either, Whether it's High winds, rain or snow. The coffin and the main flower tribute is protected behind clear glass.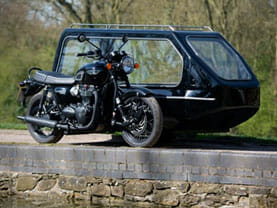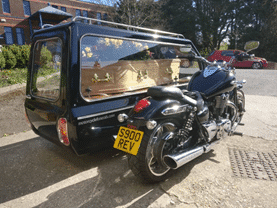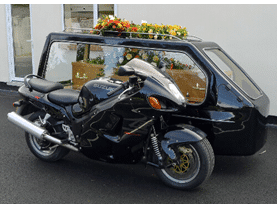 Tricycles
Just motorcycle enthusiasts deserve something special – well so do trike enthusiasts! ​
Britain's first full length hearse for trike enthusiasts is available to us. Automobile lovers have the use of automobile hearses, motorcycle enthusiasts' motorcycle and sidecar hearses and now, at long last, a full-length hearse for trike enthusiasts.
The astonishing style of The Trike Funerals hearse jumps at you. Then, as you look closely, you realise this is a vehicle of outstanding quality with attention to detail. The shining lines flow from the bespoke stainless wreath rail, to the 911cc VW engine then along to the stainless front.
This is no ordinary hearse. This is a one off, full coffin length, stylish and stable. You won't find another the same anywhere. For the funeral of someone who was a true individual in life, nothing could be more individual and precious.