Bespoke 'Burial' Funeral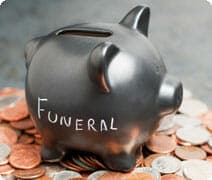 Typical Burial Funeral – £4,134 inc disbursements
In the interests of transparency we believe that you should not have to make a phone call or make personal visits to determine what a funeral might cost.
The price list below itemises the typical services that will make up your bespoke funeral, ensuring that you only pay for what you want. At the end of the price listing is a typical funeral cost example:
Funeral Director Fees
Our professional fee
£1700
Coffin
Our 'Ardingly' oak veneered (our most popular)
£450
Transport Of The Coffin
Formal hearse is included
(silver cars are extra)
Funeral Celebrants & Ministers
Independent celebrant
from £200
Or religious minister
£200
Cemeteries
£790 (Plot), £994 (Interment fee)
Clayton Wood Natural Burial Ground
TBA
Other Sundry Costs
Out of hours callout** – see below for explanation
£200
Order of service sheets
TBA
Typical Burial Price Example
Please note: Our Professional Fee includes Advice, Arrangements and Administration; Collection of the deceased during office hours within 20 mile radius; Care of the deceased; Preparation & Viewings; Supporting Family Members wishing to view; Checking all papers are correctly completed and submitted; Funeral Director on the day of funeral; Bearers; and second venue for a service before graveside.
**Where an out of hours callout applies there will be a charge of £200
Larger Clients: In the case of bariatric (obese) clients , that cause additional or unusual requirements, or clients who exceed 6'2″ x 22″ in size, we reserve the right to either decline or withdraw our services at any time, and/or make additional charges where these become necessary, but you will be informed of any such charges before we apply them.
Full payment (cleared funds) must be received before the funeral takes place.