Bespoke 'Burial' Funeral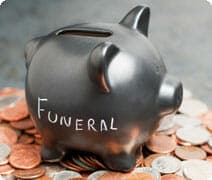 Typical Burial Funeral – £2345 plus disbursements
In the interests of transparency we believe that you should not have to make a phone call or make personal visits to determine what a funeral might cost.
The costs below provide you with a list of the main costs associated with a burial. You simply choose what services you need or want and pay for only those services.
Funeral Director Fees
Our professional fee
£1500
Transport of the coffin
Formal hearse for burial (extra for silver)
£260
Funeral Celebrants and Ministers
Independent funeral celebrant
From £200
Or Religious minister
£196
Cemeteries
Brighton & Hove cemeteries plot
£733
Brighton & Hove interment fees
£994
Natural burial plot at Clayton Wood
£TBA
Clayton Wood interment fee
£TBA
Coffin
Our 'Ardingly' Oak Veneer (Our Most popular)
£450
Other types of coffins available (Please ask for details)
A typical example of a burial funeral service
Our professional fee
£1500
Coffin: Our standard oak veneered 'Ardingly'
£450
Hearse
£260 (includes 1 x bearer)
Please note: Our Professional Fee includes Advice, Arrangements and Administration; Collection of the deceased from hospital or mortuary; Care of the deceased; Preparations & viewings; Supporting family members who wish to view; Checking all papers are correct and submitted; Funeral Director on the day of funeral.
Other expenses to consider
Home or Nursing Home Collection fee during office hours
£120
Out of hours callout** – See below for explanation
£200
**Where an out of hours callout applies there will be a charge of £200
(This is not in addition to the collection fee above but in place of – it's either or!)
Larger Clients: In the case of bariatric (obese) clients , that cause additional or unusual requirements, or clients who exceed 6'2″ x 22″ in size, we reserve the right to either decline or withdraw our services at any time, and/or make additional charges where these become necessary, but you will be informed of any such charges before we apply them.