The 'No Fuss' Direct Cremation – From £799 plus disbursements
Simple & Private
Also known as 'Direct to Cremation' services
Important Note:  When comparing with other companies offering cheap direct cremation services please bear in mind that your loved one remains here with us in Brighton and is cremated using local crematoriums.  It is always worth asking other companies where your loved one will be cremated.  This means that your fees are supporting a local business and the Local Authority.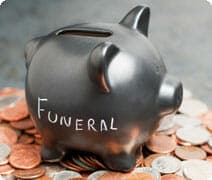 The Funeral Director Industry associations require their members to offer a basic cremation only funeral  or Direct Funeral, with a given specification as part of their code of practice. However it has been officially reported in a recent Which? survey, that in spite of this requirement, many choose not to offer this option, unless the client specifically asks for it.
For transparency and integrity reasons, we want you to be aware of all our funeral service options.
These are especially suitable to those in need of a simple funeral option. Our 'No Fuss' Direct Cremation service is an affordable alternative to the traditional funeral, which separates the ceremony from the cremation and leaves families free to arrange a memorial or celebration of life service away from the crematorium and in their own time.
We have two prices for the 'No Fuss' option, depending on where we collect from.
From hospital or coroners
Price £799 plus disbursements*
From home or nursing home etc
Price £999 plus disbursements*
*Disbursements = Cremation fee of £385 & Doctors fees if applicable of £82 (During this current Covid-19 crisis, only one doctor is required, doctor fee not applicable if Coroners' are involved)
The price difference reflects the fact that those collected from a private home or nursing home resting in our premises for a period of time (sometimes up to a week or more) until they are taken to the crematorium, whereas those from hospitals and coroners are usually only with us for a few days.
These arrangements can be made in the comfort of your own home with no need to visit or meet us.
Coffin suitable for cremation
Conveyance to crematorium
NOTES:
This is a 'Direct to cremation' only service – there is no use of the chapel for mourners.
Full payment (cleared funds) must be received 3 days before the funeral takes place.
Larger Clients: In the case of bariatric (obese) clients , that cause additional or unusual requirements, or clients who exceed 6'2″ x 22″ in size, we reserve the right to either decline or withdraw our services at any time, and/or make additional charges where these become necessary, but you will be informed of any such charges before we apply them.
'Out of hours' collection – additional fee payable – £200 for 'within area' out of hours collections (after 5pm and before 9am weekdays & all weekend / bank holidays)